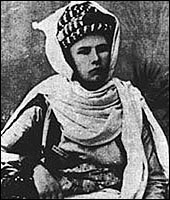 Isabelle Eberhardt.

Eberhardt Press is named in honor of Isabelle Eberhardt, the great anarchist writer and adventurer who was swept away by a flash flood in Algeria at age 27, more than a hundred years ago. But her writings have lived on long after her passing. She lived freely and fully, writing of her experiences in the Muslim world in a voice of clarity, depth and beauty. Her life and her stories are an inspiration for those who desire to embrace life to the fullest, and who refuse to be mired in repressive constraints.
Eberhardt Press, established in 2004, is dedicated to bringing anarchist and anti-authoritarian voices to print. We publish original titles as well as classic revolutionary texts. Everything published by Eberhardt Press is also printed at our offset print shop in Portland, Oregon, harkening back to the days when publishers, composers and printers co-existed as part of the same operation. Eberhardt Press strives to apply craft traditions to its designs and printwork, exploring paper and ink as vehicles for communication within the context of radical politics, believing that social transformation is not a grungy, messy thing, but a thing of beauty, like a blooming flower with deep roots.

Complementing our print titles, a library of e-books is available. When a title goes out of print, it is added as a free PDF ebook to the library. Also, some in-print titles are also available as e-books for the Kindle, Nook, iBooks, etc.

We also provide design and printing services to a diverse range of clients that includes zine publishers, co-ops, musicians, artists, non-profit organizations, activist groups, small independent businesses and other folks in Portland and around North America. If you are looking for a reliable, detail-oriented, hands-on printer for your next project, email for a quote or download a rate card.



Contact:
General Info: info@eberhardtpress.org
Printing Questions: printing@eberhardtpress.org
Orders: orders@eberhardtpress.org

Eberhardt Press
636 SE 11th Ave.
Portland, Oregon 97214